Partagas Serie E N°2
Partagás Serie E No. 2, the 2011 new product launched by Habanos S.A. will be available in the world´s market at the end of August.

Serie E No. 2 is distinguished with the incorporation of 54 ring gauge in the brand and for the new design in their presentations.
The new Partagás Serie E No.2 (54 ring gauge x140mm length) inaugurates a new Partagas Serie, exclusively created with a ring gauge of 54, greatest ring gauge up to now presented in parejos for this brand: as an innovation to its image, a flap to separate the cigars in the box and an exterior lithographed piece of paper has been added to make the wooden boxes of the brand more easily identifiable in the outlets.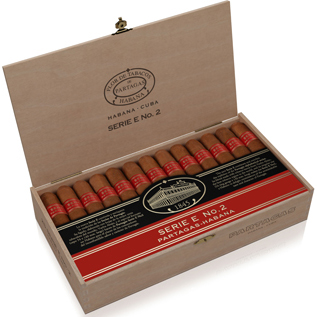 Serie E No 2 will be available with two presentations in boxes (SBN) (Semi boite Nature)


Marca: Partagás
Vitola de Salida: Serie E No 2
Vitola de Galera: Duke
Medidas: 54 ring gauge (21,43mm) x largo 140 mm in length
Presentaciones: Semi boite nature (SBN) - 25 units and Semi boite nature (SBN)- 5 units