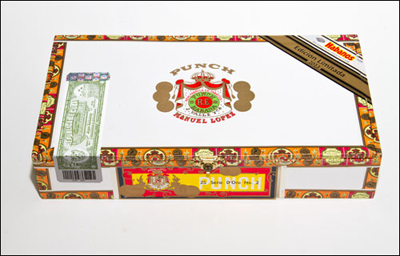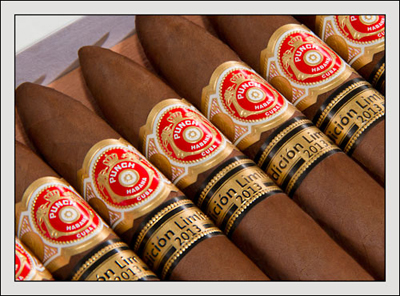 Edición Limitada 2013: Punch Serie D'Oro No. 2


The Ediciones Limitadas -Limited Editions- of Habanos* (D.O.P) are highly appreciated and awaited every year by enthusiasts worldwide. They are characterized by vitolas -sizes- that do not appear in the usual range of the brand portfolio, and they are distinguished by a careful selection wrapper, filler and binder leaves which have been aged for a period of at least 2 years.
The wrapper dressing these Habanos comes from the top leaves of the Tapado – shade grown- black Cuban tobacco plant, and is relevant characteristic that identifies these special productions. This wrapper is usually slightly darker than the wrappers of regular range sizes of the brand.
The Ediciones Limitadas are made with the finest tobacco leaves coming from Vuelta Abajo* (D.O.P), Cuba.


Punch is one of the very oldest Habano brands, founded it in the mid of 19th Century by  Don Manuel López of Juan Valle. Punch, whose name comes from the humorous magazine that was much in vogue at that time is still featured in every box, cigar in hand, and surrounded by 19th Century images of cigar making that remain virtually unchanged over a century and a half later.
This is the first time that Punch has an Edición Limitada -limited edition. Punch Serie D'Oro No. 2 (ring gauge 52 x 140 mm in length) is a figurado –tapered at one end- vitola specially selected for this Edición Limitada, 2013. These 25 Habanos are produced "Totalmente a Manoâ€- Totally handmade- after an exquisite selection of wrapper, filler and binder leaves coming from the Vuelta Abajo* (D.O.P) plantations and aged at least 2 years.
This Edición Limitada 2013 has been produced in very small quantities. All the Habanos were made by Cuba's most expert rollers in order to create this exquisite Habano for the most distinguished smokers.
Punch Serie D'Oro No. 2, with Punch's distinct aromatic medium flavor, will be available in the classical Labelled Box with brooch (CBB) of 25 units.